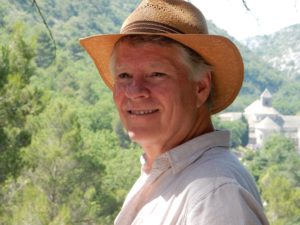 I am a voyageur, travel writer and sometime Guide Touristique in the south of France. An observer of places, people and things is known as a flaneur to the French. The flaneur is rarely in a rush, casually taking in the sights, sounds and tastes of places familiar or foreign. I have been working at joining this unofficial club for the past several years. As an apprentice flaneur, I have been jotting down notes and putting ideas together of places visited and experiences worthy of a reader's time.
Sharing travel ideas and stories of sites seen off the beaten path spawned from wanderings throughout France, Europe and the US is what I am doing. There has been no shortage of interesting people encountered, fascinating places visited and vistas for unparalleled photo ops experienced. I am turning my collection of notes taken in the course of my unofficial training as a flaneur, and combining it with those from tomorrow's travels into articles and chronicles to pass along.
My wife Patty and I will keep things interesting and provide plenty for me to report in 2017. This year we plan to live in Provence for about three months. From our base in Isle sur la Sorgue we will continue our exploration of the land made famous by Peter Mayle and Marcel Pagnol, among others. The well-known towns which produce the wines of the southern Rhone Valley, Chateauneuf du Pape and Gigondas are less than an hour's drive. There are Roman ruins, Impressionists Museums and hill towns little touched by time throughout the countryside outside our door. The hills and valleys around our town are painted by poppies in the spring and lavender in July. The friendly people are here year round. The quest to discover the perfect temperature at which to serve rosé continues. We have frequent guests to assist in this ongoing experiment. Consider joining us in the shade on the village square on your tour of Provence.